---
  Home  |  Download  |  Games  |  Features  |  Gallery Support  
---

Penelope's Web solitaire rules (1 deck of cards)<< Peek | Penguin >>

Goal: Move out the aces when you can and build them up to king in the same suit.

Build the 8 piles of the layout down in any suit. Only the top card of a pile may be moved. Empty piles can be filled with a king.


---

Variation of: Streets and Alleys (Beleaguered Castle)

Difference: Only kings can play to empty piles, rather than any card. An extra card is dealt to the 4 top piles rather than the 4 left piles, a purely cosmetic change.

Beleaguered Castle is a challenge to win, and most variations only make it harder. This variation is nearly impossible to win. George A. Bonaventure makes it worse by requiring suits to match. Perhaps it was worded incorrectly by accident.

Rules source: Dick's Games of Patience, Dick and Fitzgerald ~ Games of Solitaire, George A. Bonaventure ~ 100 Games of Solitaire, Helen L. Coops ~ Pretty Good Solitaire, Goodsol Development ~ BVS Solitaire Collection, BVS Development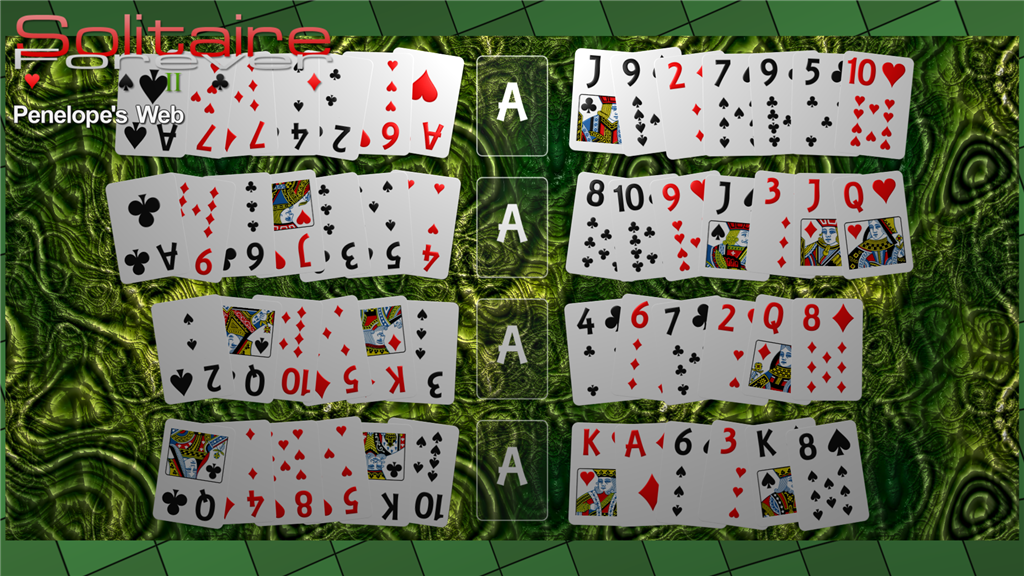 This is one of 6 layouts for Penelope's Web in Solitaire Forever II.


Back to top