---
  Home  |  Download  |  Games  |  Features  |  Gallery Support  
---

Interregnum solitaire rules (2 decks of cards)<< Intelligence | Intrigue >>

Goal: 8 cards are dealt to begin the foundations. Build each up in any suit to 13 cards. Aces play onto kings. Built cards are offset so that the starting card remains visible. When a pile reaches 13 cards, the starting card is moved to the top of the pile to indicate it is complete.

Another 8 piles are each dealt a card. There is no building on these piles. The top cards are available for play to the foundations.

Each time you are done making moves, deal one new card to the top of each pile.


---

Also known as: Constitution

This unique game begins each foundation pile with a different random starting card. It's an interesting change when you want something different.

Note that Lady Cadogan, Dick and Fitzgerald, Helen L. Coops, Morehead & Mott-Smith, and Alphonse Moyse, Jr. list a different game with the name, Constitution, which might be why this game took on a new name.

Rules source: Le Livre Illustre des Patiences, Comtesse de Blanccoeur (La Constitution) ~ The Illustrated Book of Patience Games, Professor Hoffman (Constitution) ~ The Penguin Book of Patience, David Parlett ~ Patience Games, D. B. Pritchard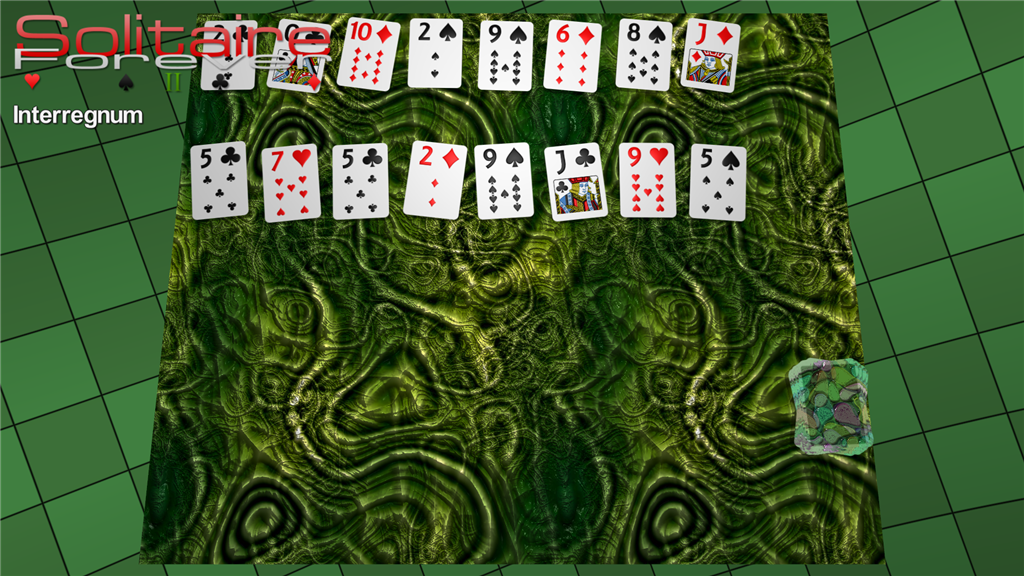 This is one of 6 layouts for Interregnum in Solitaire Forever II.


Back to top