---
  Home  |  Download  |  Games  |  Features  |  Gallery Support  
---

Following solitaire rules (1 deck of cards)<< Fly | Fort >>

All building requires that suits are in a 'following' order: club, diamond, spade, heart, and back to club.

Goal: Move out the aces when you can and build them up to king with following suit order.

Build the 6 piles of the layout down with following suit order. Any number of cards from the top of a pile can be moved. Empty piles can be filled with anything.

Turn over one card at a time from the deck, playing the top card to other piles when you can.

One redeal is allowed, returning the waste pile back to the deck.


---

Most of the rules are simple and friendly, allowing sequences to be moved and spaces to be filled however you wish. The catch is the suit order. It's a bit mind-numbing at times. Luckily a computer app will prevent you from making an illegal move by accident.

The suit order prevents a pile from moving more than one card at a time to the same ace pile, since the suits will reverse order due to the opposite build direction of the ranks.

Rules source: Games of Patience - 3rd Series, Miss Whitmore Jones ~ The Complete Patience Book, Basil Dalton ~ The Penguin Book of Patience, David Parlett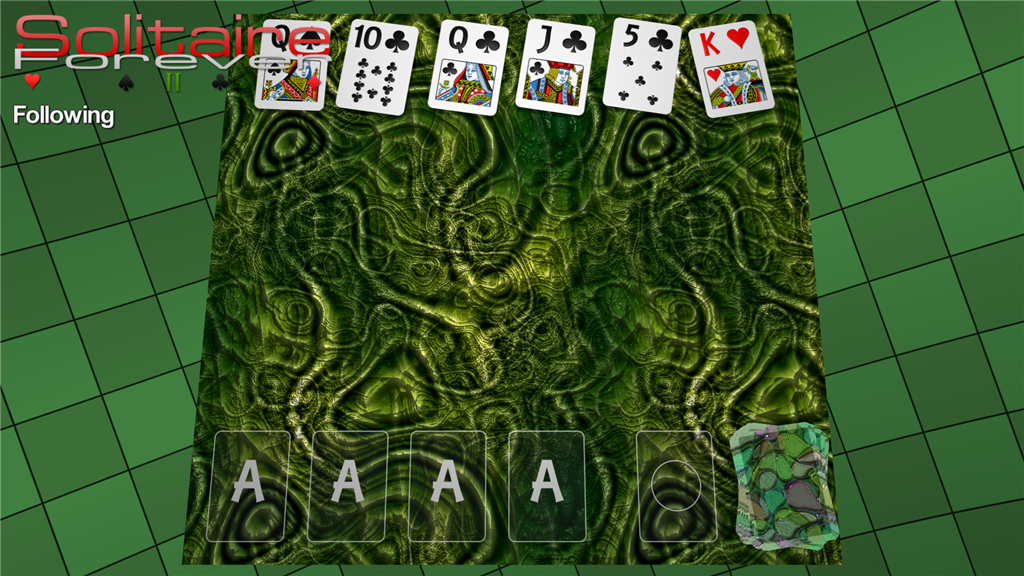 This is one of 6 layouts for Following in Solitaire Forever II.


Back to top