---
  Home  |  Download  |  Games  |  Features  |  Gallery Support  
---

Indian + solitaire rules (2 decks of cards)<< Indian | Intelligence >>

Goal: Move out the aces when you can and build them up to king in the same suit.

Build the 10 piles of the layout down in non-matching suits. When the first card of a pile is turned face up, it can not played upon, nor moved anywhere except onto the ace piles. Once the deck has been exhausted, this rule is lifted.

Empty spaces are redealt from the deck so long as cards remain. After that, they can be filled with any card.

You can only move one card at a time. Each empty pile doubles the number of cards you can move, since multiple moves would allow it.

Turn over one card at a time from the deck, playing the top card to other piles when you can.

There isn't a full redeal, but you can turn over the waste pile and play the top card. The top card must be played before another card becomes available.


---

Variation of: Indian (Forty Thieves)

Difference: When the bottom card of a pile is turned face up, it can not be played upon, nor moved anywhere except onto the ace piles. Once the deck has been exhausted, this rule is lifted. Empty spaces are redealt from the deck so long as cards remain. A redeal of the waste pile is allowed, until an unplayable card is reached.

Most modern descriptions have forgotten the complete rules, as described by Miss Whitmore Jones. David Parlett hasn't forgotten, but doesn't include the redeal.

Rules source: Games of Patience - 5th Series, Miss Whitmore Jones ~ Solitaire and Patience, George Hapgood ~ The Penguin Book of Patience, David Parlett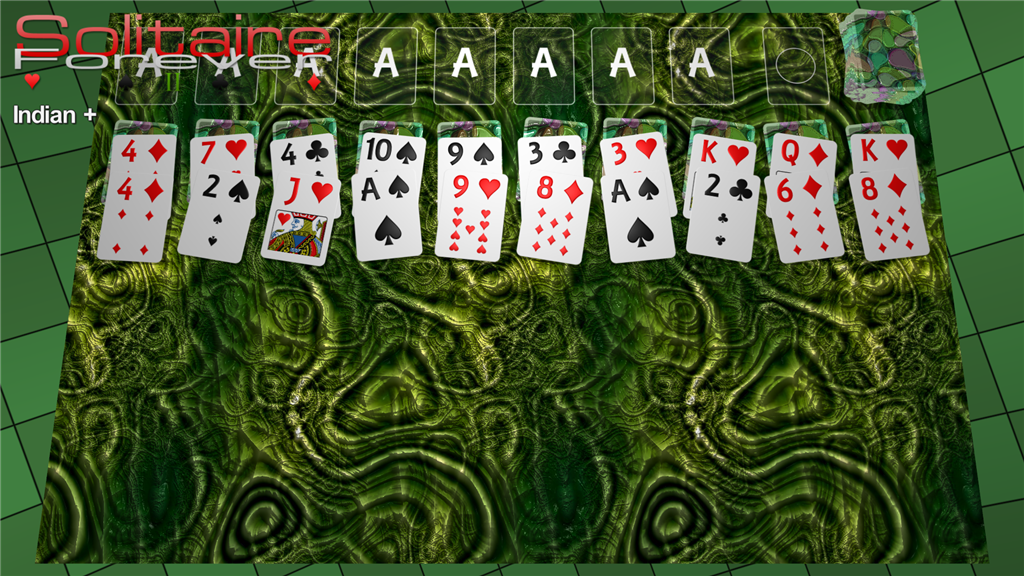 This is one of 6 layouts for Indian + in Solitaire Forever II.


Back to top