---
  Home  |  Download  |  Games  |  Features  |  Gallery Support  
---

Gaps solitaire rules (1 deck of cards)<< Frog (Open) | Gargantua >>

Goal: Form 4 same-suit sequences from two to king.

An entire deck of cards is dealt out in 4 rows of 13 cards each, and the aces are removed. Cards are played into the gaps left by the aces, leaving a new gaps in their place.

To play a card into a gap, it must rank one higher than the card to the left, and match the same suit. The start of a row can be filled with any deuce (two). You can not play to a gap after a king, as there is no next higher rank.

2 redeals are allowed. Cards that are not in sequence are gathered, shuffled, and redealt. The first available pile of each row is left empty, to become the new gaps.


---

Also known as: Spaces, Vacancies

Variations: Montana

Rules source: Games of Solitaire, George A. Bonaventure ~ 100 Games of Solitaire, Helen L. Coops (only 1 redeal) ~ The Complete Book of Solitaire & Patience Games, Albert H. Morehead & Geoffrey Mott-Smith ~ 150 Ways to play Solitaire, Alphonse Moyse, Jr. (only 1 redeal) ~ Enjoying Card Games for One, George F. Hervey (Spaces) ~ Patience Games, D. B. Pritchard ~ Card Games for One, Peter Arnold (Vacancies)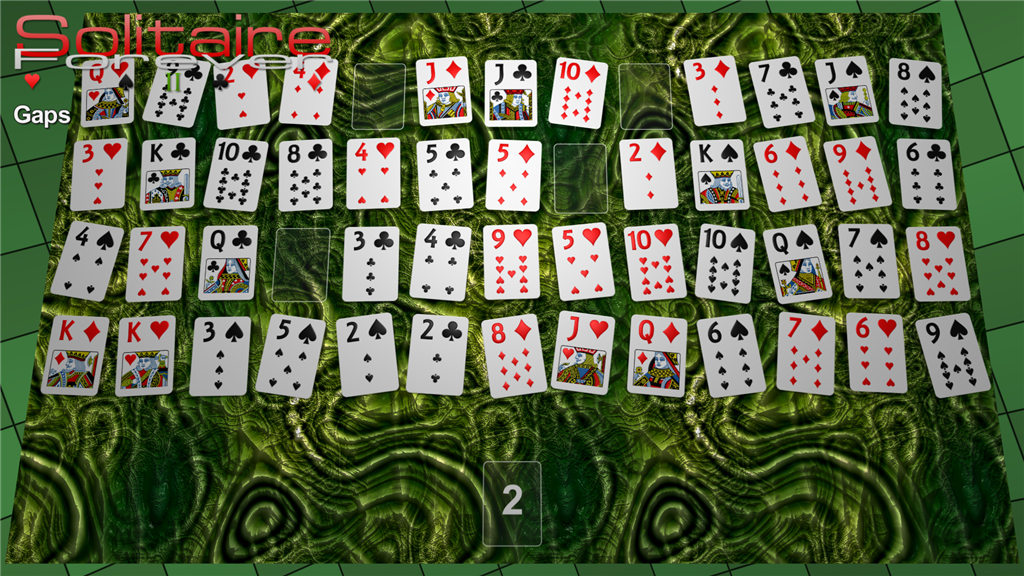 This is one of 4 layouts for Gaps in Solitaire Forever II.


Back to top